Green Coffee Extract
Green coffee extract has become a popular weight loss supplement after it was mentioned on the Doctor OZ show.
This supplement is made from green coffee beans (before they have been roasted). The Chlorogenic Acid in green coffee extract is believed to promote weight loss.
However, there really hasn't been much research into the validity of this claim.
High Caffeine Amounts Possible
One capsule this popular brand is 50mg, however, the recommended dose is 2 capsules or 100mg of caffeine. The brand pictured above advises some to take several doses per day as follows:
Average Dose: 2 capsules. = 100mg/day

Moderate Dose: 3 capsules, twice a day. = 300mg/day

Accelerated Dose: 3 capsules, 3 times a day. = 450mg/day
Consuming caffeine from other sources could lead to dangerous side effects.
Caffeine by Green Coffee Extract Brands
Hamilton Green Coffee Weight Loss (listed above): 50mg/capsule
TerraPur Green Coffee: less than 40mg/capsule
Omega Soul Green Coffee: 20mg/capsule
Nature Wise Green Coffee Bean Extract: 20mg/ capsule
Quality Green Coffee Bean Extract: 20mg/capsule
Confusing Caffeine Statements
There seems to be some pretty confusing statements on the bottles concerning caffeine content.
Some say less than 5% caffeine, others say 1/2 a cup of coffee, and others say 1 decaf coffee.
The product listed above states on the label 100mg of caffeine per 2 capsules and then in the warning label states that a dose is as much as 1/3 cup of coffee.
This is very confusing for the consumer.
We suggest that consumers err on the side of caution when taking a green coffee supplement.
Where To Buy Green Coffee Extract
Ingredients in Green Coffee Extract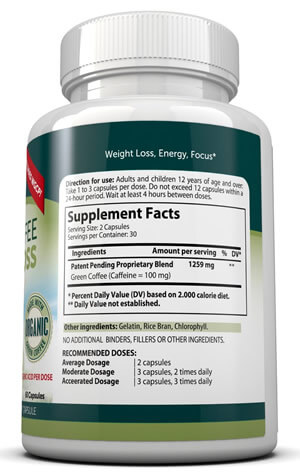 How Does It Compare With Other Foods?
Sources
product label