Top 10+ Instant Coffee Brands 2018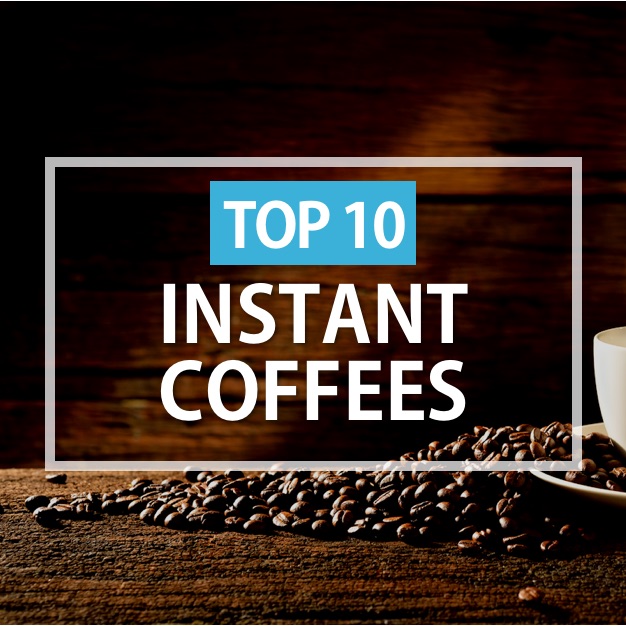 These coffee blends have been chosen on the basis of reviews, and consumer popularity. A listing here is not an endorsement for the brand. If you want to know about a brand's particular ethics, see
coffee brands to avoid
.
1
Starbucks VIA Ready Brew Coffee
Columbia blend
☆ ☆ ☆ ☆ ☆ 2000+ reviews
Flavor
Balanced & Nutty
A smooth coffee with a signature nutty flavor.
Ingredients
Soluble and Microground Arabica Coffee (100%).
Starbucks Via comes in single serve packets (typically 50 per package when bought in bulk). The unusual mix of both soluble and ground coffee makes for a slightly different texture to other coffees.
Caffeine: 130-140mg per serving (see more).
2
Sudden Coffee
Single Origin Coffee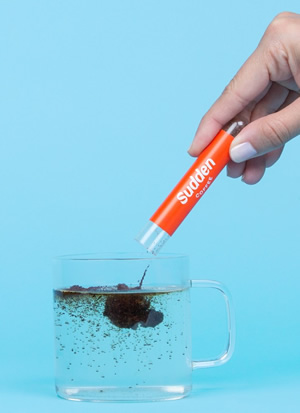 Flavor
Christalina single origin Columbian
: Chocolate and Fruit tones
Rayos del Sol single origin Peruvian: Citrusy and fruity
Ingredients
Single origin 100% Arabica crystalized coffee.
Sudden Coffee is designed to taste like pour over single origin coffee that's found in high-end coffee shops. Each variety has a unique taste that is different from coffee brewed using a blend of coffee beans which is what most coffee consumers are accustomed to.
Caffeine: 95 mg per 12 fl oz serving (see more).
Sudden coffee offers a subscription program.
3
Maxwell House
French Vanilla
☆ ☆ ☆ ☆ ☆ 1100+ reviews
Ingredients
Sugar, Nondairy Creamer [Corn Syrup Solids, Partially Hydrogenated Coconut Oil, Sodium Caseinate (from Milk), Dipotassium Phosphate, Mono-and Diglycerides, Artificial Flavor], Instant Coffee, contains less than 2% of Natural and Artificial Flavor, Sodium Citrate, Silicon Dioxide.
Maxwell House French Vanilla is one of a series of flavored instant coffee products. It has around 60 calories per serving.
Caffeine: 40mg per serving (per packet).
4
Nescafe Clasico
Dark Roast
☆ ☆ ☆ ☆ ☆ 130+ reviews
Nescafe have an enormous range of blends and coffees, but this two-pack consistently remains a top seller. Each jar makes around 100 cups (depending on your preference). This makes it one of the most economical without compromising on flavor.
Caffeine: 57-65 mg per serving.
☆ ☆ ☆ ☆ ☆ 200+ reviews
Mount Hagen is processed in Germany and is regarded as one of the best organic (and fair trade) instant coffees available.
Caffeine: Unlisted (but estimated at 50-60mg per serving).
6
Douwe Egberts Pure Gold
Medium Roast
☆ ☆ ☆ ☆ ☆ 200+ reviews
Douwe Egberts (Also known as the Moccona brand in some countries) is a Dutch-made coffee, that many regard as having a superior flavor. There is a darker roast available called Pure Indulgence. Douwe Egberts can be a little more expensive than other brands.
Caffeine: Unlisted (but their faq lists an estimated amount of 60mg per serve).
☆ ☆ ☆ ☆ ☆ 350+ reviews
Folgers is a very popular brand of freeze-dried instant coffee – due to the price point, and ease of preparation.
Caffeine: Unlisted (but an early reference suggests 71mg per serving).
8
Starbucks Via Ready Brew Decaf
Italian Roast
☆ ☆ ☆ ☆ ☆ 2000+ reviews
No list would be complete without a decaffeinated coffee. Starbucks Via Italian Roast is one of the highest rated decaf coffees. It comes in single servings (50 per packet) along with the unique blend of both soluble coffee and micro-ground.
Caffeine: Decaf is not caffeine-free, but will have small amounts of caffeine.
9
Nescafe Taster's Choice
House Blend
☆ ☆ ☆ ☆ ☆ 100+ reviews
The House Blend is a light-medium roast that is preferred by many. Coffee is freeze-dried and dissolves near-instantly in hot water.
Caffeine: 65mg per serving (from Nescafe).
10
Jacobs Kronung
House Blend
☆ ☆ ☆ ☆ ☆ 100+ reviews
Jacobs is a coffee manufactured in Germany. Despite the house blend being referred to as "rich" – many consider this to be a mild flavor, with less acidity.
Caffeine: Unlisted (but estimated at around 60mg per serve).
11
Four Sigmatic Mushroom Coffee
Cordyceps and Chaga
☆ ☆ ☆ ☆ ☆ 700+ reviews
Flavor
Light and smooth.
Ingredients
Instant Coffee Powder, Chaga Dual-Extract, Cordyceps Dual Extract.
No list would be complete without a more unusual coffee blend – such as mushroom coffee. Surging in popularity over the last few years, these unique blends contain extracts of different mushroom species. Along with regular Arabica coffee. Note that there is no taste of mushrooms in the coffee.
Mushrooms are alkaline (compared with coffee's high acidity), making the drink easier on the stomach.
Caffeine: 40mg per serving.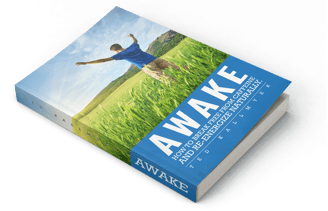 Get Help Quitting Caffeine
Reduce your caffeine intake without pain and discomfort.
Download our FREE ebook
Last Modified: June 18, 2018