M&M's Chocolate Candies
M&M's Chocolate candy is an American icon and are made by the Mars Company.
They have been around since 1941 and have since grown to world-wide popularity.
They come in many varieties, and the caffeine content will vary based on the amount of chocolate used and the use of milk of dark chocolate.
The traditional M&M's are just candy coated milk chocolate and we estimate the caffeine content to be around 9 mg per single serve packet (1.69 ounces or 47.9 grams).
This is standard for the amount of milk chocolate in the product minus the candy coating.
The dark chocolate version of M&M's would have double caffeine at around 18 mg per single serve packet.
Coffee Nut M&M's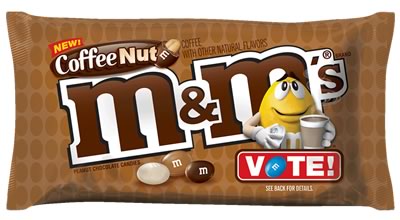 There are currently 3 new flavors of M&M's in which consumers are to vote as which will be their new flavor addition.
Coffee Nut would have slightly more caffeine than the original because of the coffee flavoring used.
These are not chocolate covered coffee beans but coffee flavored chocolate surrounding a peanut.
If Coffee Nut is chosen as the winner, we'll add them to the database and nail down the specific caffeine content.
Where To Buy M&M's Chocolate Candies
Ingredients in M&M's Chocolate Candies
Milk Chocolate (Sugar, Chocolate, Cocoa Butter, Skim Milk, Lactose, Milkfat, Peanuts, Soy Lecithin, Salt, Artificial Flavors), Sugar, Cornstarch, Less than 1% - Corn Syrup, Gum Acacia, Coloring (Includes Red 40 Lake, Blue 2 Lake, Blue 1 Lake, Yellow 6, Yellow 5, Red 40, Blue 1, Blue 2, Yellow 5 Lake, Yellow 6 Lake), Dextrin, titanium oxide.
How Does It Compare With Other Foods?