Revive Energy Mints
Revive Energy Mints are all natural energy mints with a dose of caffeine.
While 102mg seems like a lot of caffeine per mint, Revive is actually formulated to be time released so the caffeine doesn't hit you all at once but gives long lasting sustained energy.
However, Revive isn't suitable for children so be sure to keep them out of their reach.
Review
This review was completed by an independent drink reviewer and does not necessarily reflect the views or beliefs of this site.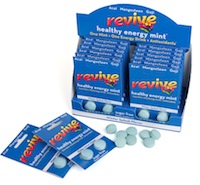 With the recent decline in new energy drinks, it comes as no surprise the caffeinated candy market has also taken a hit.
Despite the abundance of candy products released last year, this year has had few post-worthy options.
Well, the list of recommendable products has just gotten a little bigger. With the release of Revive Energy Mints which means Stay Alert finally has some competition.
Update: 2011 New Improved Revive Energy Mint Formula. See how Revive's changed below.
Taste
The mints themselves are soft blue in color and smell of sweet mint plants. Upon popping the nickel sized tablet a cooling effects travels completely through the sinuses. Refreshing, freezing, and delicious, Revive isn't your normal energy mint. Stay Alert, for example, was all about the caffeine rush. The flavor was unpalatable for many and they had to force themselves to keep chewing. That's all changed with Revive, which is being touted as "Nature's Energy Mint".
Update: Intense Mint flavor. Revive lasts for 30 minutes in your mouth, but after 15 minutes the mint is less minty and takes on a slight "vitamin" Type flavor.
Revive Ingredients
The title is mainly due to the ingredients Acai, Mangostreen, and Goji; three well known "Super" antioxidants. Granted each mint contains relatively minor amounts considering caffeine, Guarana, green tea, ginseng, and the three antioxidants come to a total of 101mg, but the emphasis on health is much more important.
Note: The manufacturer stated that there is 85mg of caffeine per mint.
Update: 10% of you vitamin C and each Revive Mint Consists of Caffeine, Guarana, Green Tea, Ginseng, Acai, Mangosteen and Goji. With a boost in caffeine, clocking in at 101mg/mint.
Energy
Will these mints give you a kick-in-the-ass caffeine rush? Its unlikely. Swallowing an entire pack at once might have that effect, but that would be missing the point. Like many "natural" energy products, they're supposed to give alertness rather than a rush. With this in mind, Revive mints do exactly what they say they do and actually taste good. Now I know what you're thinking, the concept seems far fetched, but apparently, caffeinated products can be both strong and taste good. Simply amazing.
Update: For just a mint, I was quite surprised by the boost I got from a Revive Energy Mint. Of course it wasn't the rush that would push you through your normal blue Monday, but definitely enough to get you through between energy drinks or if you just need a rush without having to crush an entire energy drink.
Revive Energy Mint Verdict
Either way, Revive is an everyday energy mint. It doesn't take justification to put in your mouth and it certainly won't leave you feeling guilty for taking so much caffeine in one day. At the same time, they aren't nearly as strong (caffeine-wise) as Stay Alert so gauge accordingly. In all, a perfect classroom, date, work, or driving companion.
Update: I will definitely keep a few packs of these mints in my drawer for those slow dragging days, yet for my energy needs I will continue to reach for my dependable and better tasting liquid forms. You could always pop 1 or 2 in your mouth and then follow it with your favorite energy drink to not only mask the taste, but to reach that ultimate energy rush…
Reviewed by Josh
Updated review by Brandon Trouten
Free product was received by Brandon and Josh in order to complete their reviews.

Ingredients in Revive Energy Mints
caffeine, guarana, ginseng, green-tea, and three exotic superfruits: acai berry, goji berry, and mangosteen, Vitamin C and Calcium Stearate
How Does It Compare With Other Foods?
Sources
Our review The manufacturer.