Revivo Energy Chews
Revivo Energy Chews are caffeine, vitamin, and mineral gummie chews that are intended to help people work and play harder.
A serving of Revivo is 4 chews or 80 mg of caffeine.
The company recently sent us some samples of Revivo to evaluate and add to our Caffeine Informer Food Database.
Revivo Review
Revivo Energy chews come in packages containing two servings or 8 individually wrapped gummie chews.
Taste
There are three flavors of energy chews per package:
Lemon: This one had a nice lemon flavor, but with some of the energy ingredients coming through slightly.
Orange: Again, nice orange flavor with just a tad of the vitamin taste evident.
Fruit Punch: This was the best flavor in my opinion as it did the best job of covering up the energy ingredients.
All three flavors had a slight artificial sweetener aftertaste but were overall enjoyable to eat and pretty much felt like eating candy gummies.
Revivo Energy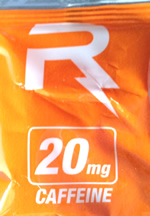 First of all, I really liked how each chew was individually wrapped and labeled clearly with the words "20 mg of Caffeine". Consumers know exactly how many milligrams of caffeine they are ingesting with each chew.
I first started with one serving of Revivo (80 mg of caffeine). After about 10 minutes, I began to feel the effects of the caffeine, but this started to wear off in about an hour.
I then ate an additional 4 chew serving for another 80mg of caffeine. This seemed to do the trick and kept we going the rest of the morning and during my lunchtime workout.
Revivo is a good product for those who are looking for a more portable alternative to coffee, or energy drinks.
Warning! Revivo Energy Chews should be kept out of the reach of children who could easily mistake them for candy.
Ingredients in Revivo Energy Chews
Revivo Energy Chews contain Caffeine, Guarana, Green Tea Extract, BCAAs, and American Ginseng in its energy blend.
Other ingredients include: Sugar, Maltose, Gelatin, Concentrated apple juice, Flavor, Citric Acid, Sodium Citrate, Sucralose, Vegetable colors, Vegetable oil, Carnauba Wax
How Does It Compare With Other Foods?