Caffex: Caffeine Marshmallows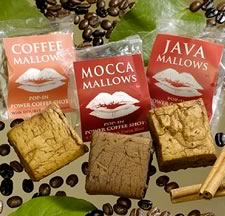 I love it when a company combines two things I already enjoy.
Caffex has come up with the idea to make marshmallows that contain different types of flavors.
They feature five flavors: CoffeeMallows, JavaMallows, MoccaMallows, ChocoMallows, and MintMallows.
Essentially, it is an energy shot inside an oversized marshmallow.
Update: This product is no longer available.
Caffeinated Marshmallow Taste
CoffeeMallows: This is your standard coffee flavor. It tastes like a bolder roast coffee and the sugar in the marshmallow takes some of the edge off.
JavaMallows: Flavored with a shot of espresso, this is a stronger tasting version of the Coffee flavor. I like the flavor of espresso. This, paired with the sugar in the mallow is a great combination.
MoccaMallows: This one was really interesting. They took the coffee base and added cocoa and cocoa nibs. It was like a coffee chocolate chip marshmallow. This was my favorite of the three.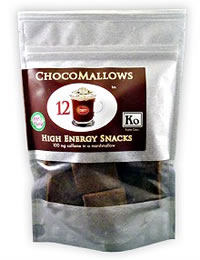 Update: New Flavors!
ChocoMallows: These gourmet marshmallows are void of coffee flavor, but rich in chocolate flavor. They also offer the surprise texture of Cocoa nibs with just a hint of cinnamon. They are tasty by themselves, but make your hot cocoa rock.
MintMallows: This variety is vanilla mint flavored and pretty good, however, the mint doesn't do quite as good of job hiding the bitterness of the caffeine.
Ingredients
The marshmallows all contain 95 calories and 22 grams of sugar. The Coffee and Mocha flavors have 200 mg of caffeine, the Java flavor has 280 mg of caffeine, and the new Chocomallows and MintMallows have 100mg of caffeine per marshmallow, however, they are a smaller size than the other three. Other than that, it's your typical large marshmallow ingredients.
Effect
I tried these in various contexts and will discuss each. For the JavaMallow, I ate it upon waking in the morning. This was about 20 minutes before I hit the gym. I found that I woke up quicker, and had a great burst of energy that lasted me for about 2 and a half hours. This was followed with a substantial crash. For the Mocha flavor, I ate it when I hit a tiredness wall one afternoon. I found that I was able to continue working with an increase in my productivity, but there was still a decent crash at the end. For the Coffee flavor, I decided to make a S'more. Pretty awesome idea right? I noticed the pickup, and strangely I didn't have the crash that I experienced with the other two.
Marshmallows with Caffeine are Pretty Cool
These Mallows are a great idea and they have enough caffeine to stack up against most energy drinks or coffee drinks. They are excellent for someone who likes an energy boost on the go. If you do not like marshmallows, you probably wont like these. If you don't like coffee, the Mocha flavor is probably best for you. You can check out the company and the mallows at the Caffex Website.
Reviewed by Jason Kleindorfer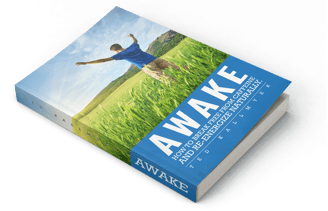 Get Help Quitting Caffeine
Reduce your caffeine intake without pain and discomfort.
Download our FREE ebook
Last Modified: June 12, 2014