Crunk Energy Drink Reviews
Crunk Energy Drink is marketed to the Hip Hop demographic.
Here we review Original, Citrus, Berry, and Mango Peach Crunk.
Crunk Original (Pomegranate)
So, yeah,
Crunk!!!
I can't decide if it's more fantastic that Crunk!!! has Horny Goat Weed or that the Crunk!!! website offers an HTML version. It's a toss up. I love it either way. Seriously, I'm not going to ruin this review with my usual crap. I'll give you the facts and you try to argue with me.
1. It's Pomegranate flavored.
2. Crunk!!! does not come in a sugar free version, which normally I'd whine about, but I'm more than willing to make an exception here for obvious reasons. Also, that's very telling. They don't even offer it…………………………………!!!!
3. From Wikipedia:
"Horny Goat Weed has been demonstrated to relax rabbit penile tissue by nitric oxide and PDE-5 activity [1]. Other research has demonstrated that injections of Epimedium extract, directly into the penis of the rat results in an increase in penile blood pressure.[2]
Crunk!!! has Horny Goat Weed.
4. Wikipedia again:
"Ashwagandha in Sanskrit means "horse's smell", probably originating from the odor of its root which resembles that of sweaty horse.[1]"
Crunk!!! has Ashwagandha.
5. Crunk!! also has Skull Cap, which is either a flower or a poisonous mushroom. So, win-win.
6. If you buy it you can walk around all day saying, "Cruuuuunk!!!"
7. It delivers the goods. Nothing spectacular, but I drank one and felt it so I can't complain. I can't necessary testify to the validity of Crunk's!!! implied claims regarding certain libidinous side-effects, but I'm sure that it's a merely a matter of dosage. I mean, taking into account the enormous differences between me and the rabbits from earlier I'd probably have to drink at least a few of these for that kind of thing. The death calculator says it's would take 131.72 Crunks!!! to do me in, but like I said, you know, enormous differences. Whatever.
Buy Crunk!!! when you see it. You will like it.
I found my Crunk!!! at a gas station way the hell out in the middle of nowhere. I've never seen it for sale anywhere else, but you bet your ass I'm gonna look for it from now on.
Crunck Citrus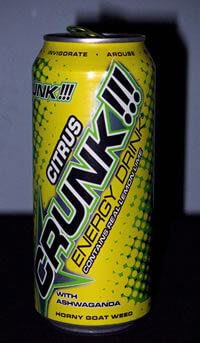 "The energy drink market is a tough place to try to thrive in. It's fast paced, cut-throat, flashy, and some might even consider it an art. So much goes into the presentation that companies scramble to put together the right ingredients, never-mind the ghastly slogans they throw together last second. Joining the leagues of "art" inspired by life comes
Crunk!!!
. The energy drink with enough exclamation points to kill a small animal…
Obvious insults aside, this is my honest review, no bias or bs. The Crunk!!! can has all the bells and whistles you'd expect after finding what it's named after. For a quick refresher, Crunk is a specific genre of hip-hop with repetitive "club friendly" beats, a term that in recent years has been adopted by rappers to mean the combination of crazy and drunk. Off to a good start Crunk!!!. Who would ever think to corner the crazy drunk segment of the energy market?
Now back to the can, 16 fl. oz. of vibrant yellow, speckled green, mysterious black, and a little silver (just for bling) all contribute to a youthful eye-catching design. I really can't complain about this appeal after going back to energy drinks being an "art", something about "eye of the beholder"?
Crunk!!! is really a mixed bag and I'm not sure where to begin. Let's start with the flavor. The Crunk!!! manufacturers genuinely tried to capture a true Lemon-Lime flavor, even going as far as adding "real lemon lime juice". Smart move and it shows. Drinking Crunk!!! is like biting a lemon without the sour bite, which is surprisingly more natural than I expected but with one minor downside, I can barely stand to finish the can. You win some you lose some.
There is one saving grace to Crunk!!! that nobody could have anticipated, it packs one hell of an assortment of plants. Starting off the list is Green Tea Leaf, Guarana (97mg worth of caffeine), and Ginseng, from there things just start to get a little weird. Next comes Damiana (a Spanish aphrodisiac), Licorice, Horny Goat Weed (aphrodisiac), Grape Seed Extract, Skull Cap (mild sedative), White Willow Bark (anti-inflammatory), Milk Thistle, and to top it all off Ashwaganda Root (sedative and aphrodisiac). Wow, I just drank a forest and didn't realize it. Talk to me again in 15 minutes and I'll either be asleep or extremely aroused… maybe both?
So now that the rainforest has been thoroughly farmed and I'm significantly wired, there's not much left to say. The very idea of this product pissed me off from the start, it was blunt, overpowering, flashy, and highly annoying. Yet, you're reading the words of a convert. The effect of Crunk!!!'s ingredients left me feeling entirely apathetic to my previous displeasure and it ended up being a love/hate relationship. The Southern Rap culture has long been known for it's use of Sizzurp. An abomination of medicated cough syrup and lemon lime soda that can leave users feeling a little more than buzzed.
It's fitting Crunk!!! would sit at the footsteps, providing a small taste for the rest of us, even if that taste is somewhat repulsive. Sadly, though this product is out, I have yet to find it on a regular basis. If you're really desperate you can always try their Online Store and get a 24 pack for $2 a can.
Overall Score (3.5/5)
Review by Josh (blog: Cubicalism & Coffee)
Crunk Berry
Crunk energy drink is a uniquely-formulated beverage with a bold name and some bold ingredients, created by an even more bold celebrity: Lil Jon!
Featuring contents like horny goat weed, this will be an interesting drink to try. Can this MC's personal drink get us "crunk"? Let's find out.
Flavor
I had the opportunity to review the berry flavor. Crunk has a very nice taste, with both sweet and tart accents due to the Acai juice, red grape juice, pomegranate and perhaps some of the extracts it contains. It is especially good when poured over ice (perhaps as a mixer!).
Ingredients
Crunk has a 272mg proprietary energy blend, but it's not just any blend, it's got more natural extracts than you can shake a stick at. Damiana, licorice root, guarana, ginkgo biloba, skull cap, white willow, ashwaganda, milk thistle, horny goat weed, and more are featured in Crunk. Of course, it's got 96mg of caffeine to round it off, but it may not be enough for some seasoned caffeine consumers.
Energy
Despite having only 96mg of caffeine, Crunk becomes very stimulating, very quickly. Coupled with guarana and the plethora of natural ingredients, I felt an energy boost that was just right. People who consume a lot of caffeine may not feel it as much. My focus has improved and my mood has been lifted considerably. If you're looking to go to the club or need a good pick me up, this is definitely a good drink to choose.
A single can of Crunk won't get you crunk(!!!) like Lil Jon – but it will definitely give you a great boost, whether it's at the club, at work, or wherever you need your fix.
Reviewed by JD
Crunk Mango Peach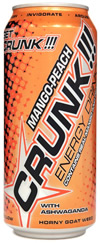 Hello Sir / Mam, I am pleased to inform you that we have pre-approved you for access to a review of the new energy drink, Crunk Mango-Peach!
This is a limited one-time offer, so act now! Certain restrictions may apply.
Taste
This version of Crunk serves as a deluxe playground for mango and peach to play together and get along. That flavor combo isn't exactly my kind of thing, but thankfully Crunk sent me enough samples to give to my friends who can appreciate this category of taste. Invariably, it was a huge smash-hit among them all. If mangoes and peaches are your thing, then you're gonna love Crunk Mango-Peach. Guaranteed.
Ingredients
Caffeine: 192mg (likely over 200mg with the undisclosed guarana content). B-vitamins: Roughly 200% of the ones that matter. Now let's get trippy: awkwardly mingling amongst the standard energy drink content we have ashwaganda, skull cap, white willow, and horny goat weed. Take all of that as you like. Feel free to chime in with a comment if you have any idea why those ingredients are supposed to matter.
Effect
Solid energy drink. No crash, consistent, and easily perceptible with a smooth operating curve. Incomplete sentences. English teacher. Take that.
Verdict
Here's the wrap up: Crunk Mango-Peach is a wonderful contender as an energy drink. As a sipping drink, it can be your new best friend, provided you have the proper prerequisites in your taste buds (read: a love for mango and peach flavors).
Reviewed by Dusty Smith
What do you think of Crunk Energy Drink?
Drinks are reviewed by an independent drink reviewer and do not necessarily reflect the views or beliefs of this site.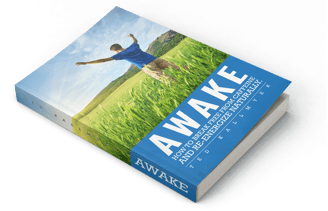 Get Help Quitting Caffeine
Reduce your caffeine intake without pain and discomfort.
Download our FREE ebook
Last Modified: September 20, 2017