Review: Havoc Energy Drink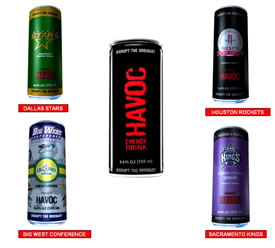 In a word: this stuff was wholly unremarkable. Aside from the decent looking can, there's not much else worth talking about. I could tell by looking at the ingredients that it was fairly lightweight. 52mg of caffeine and no Guarana, plus high fructose corn syrup. If I'm going to take in 114 calories, I want more action than that.
In their defense though, they didn't promise much. Havoc's main selling point seems to be the company's willingness to put your logo on the can. They have deals with various pro and college sports teams to provide specially branded drinks. If you've ever been to an event and seen the branded water bottles, just expect branded 8 oz. energy drinks next time.
Taste
The taste was odd. I got a bit licorice kind of vibe from it, but they swear it's raspberry. Regardless, it was sweet and kind of syrupy. It was sweeter than a Red Bull and didn't have any of the aspirin taste of, say, a Monster. The color was surprisingly dark, almost like a Coke or something. All in all, it was completely average — just the kind of thing that might appeal to a wide group of people who are used to drinking soda — so I guess that works fine.
This, from the accompanying literature (no joke):
"Havoc is the Official Energy Drink of Collegiate Sports!"
What? Collegiate sports? Good luck with that.
The Verdict
Havoc is like an energy drink for people who don't really know what energy drinks are. It tastes like soda and your mom could probably drink this and get a little peppy without freaking out. My guess is that if you ever drink one, you'll probably have gotten it for free at an event or as a promotional thing, which is good because if they're free you can drink three of them and not feel like a sucker.
Don't get me wrong, you can certainly feel the stuff working. It is what it is though. If you've ever experienced the glorious vertigo of a Redline RTD or that hint of angina from an Upshot, this just isn't going to do it. Like I said though, sleep works too. Havoc plays a role in the energy drink ecosystem. I don't think every drink should have ridiculous amounts of caffeine, just keep this review in mind if you're ever looking for that and get something else.
Drinks are reviewed by an independent drink reviewer and do not necessarily reflect the views or beliefs of this site.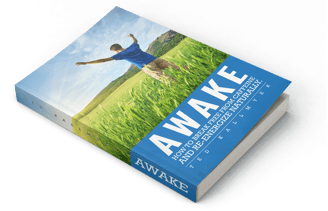 Get Help Quitting Caffeine
Reduce your caffeine intake without pain and discomfort.
Download our FREE ebook
Last Modified: July 8, 2014