Verve Energy Drink: The Biggest Ingredients List Ever
Verve Energy Drink takes the cake for having the most ingredients in a single beverage!
Interesting Fact:
Vemma (Verve's Parent Company)
was recently shut down
by a federal judge after a complaint was filed by the FTC for operating as a pyramid scheme.
12 Vitamins
65 plant sourced minerals
80mg of natural caffeine
All in an 8.3 ounce can!
Verve Offers Some Strange Ingredients
Check out these ingredients: "Proprietary Wildcrafted Mangosteen, Organic Glyconutrient Rich Aloe Vera and Organic Green Tea Blend".
In case you were wondering – the Verve has 25.2 grams of the above blend.
But take a look at the nutrition label I've posted. The mineral blend contains nearly half the periodic table of elements (okay – not really half – but you know what I mean).
Silver?
Cobalt?
Titanium?
Tin?
In a drink? Titanium for one, is useless in the human body. It serves no biological function and most likely passes right out of the body.
There have been some cases reported where this mineral has accumulated in the body.
Tin also is useless in the human body as well as many of these other ingredients.
Natural Caffeine
The caffeine in Verve Energy Drink comes from two natural sources.
The drink contains 200mg of Guarana Seed Extract – which apparently yields 80mg caffeine. This is unusual – even the highest quality Guarana extracts only amount to a 22% caffeine content (which in this case would yield about 44mg caffeine). However, they are probably also adding in the caffeine amount from the green tea extract as well.
Updated Nutrition Labels
On the updated nutrition label Verve is a bit more ambiguous about what is actually in their energy drink. The older label above is much more straight forward. We're not sure why the decided to be more secretive instead of full disclosure.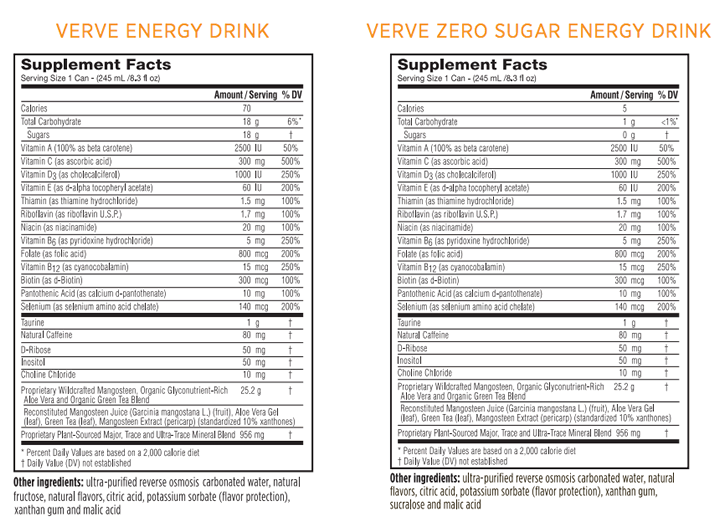 A Bit of an Overkill?
In all honesty, many of the mineral ingredients aren't necessary and offer no health benefit. Verve Energy Drink may boast some fancy ingredients and the biggest ingredient list ever, BUT it probably is overkill.
Verve also comes in a sugar-free version, a Bold version with 120mg of caffeine and an energy shot. It's also important to note that Verve is produced by Vemma a multilevel marketing type business similar to Amway and the likes. These types of products tend to come with a lot of hype surrounding them.
Drinks are reviewed by an independent drink reviewer and do not necessarily reflect the views or beliefs of this site.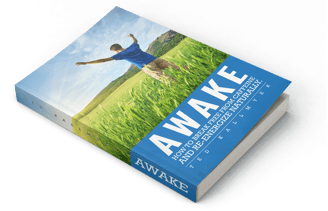 Get Help Quitting Caffeine
Reduce your caffeine intake without pain and discomfort.
Download our FREE ebook
Last Modified: August 28, 2015