418 Energy
418 Energy is a low-caffeine and low-sugar energy drink marketed towards the golfing community. It claims to provide energy, focus, and an anti-inflammatory for pain relief (via a blend of herbal ingredients).
DISCONTINUED It appears this product is no longer available.
Review
This review was completed by an independent drink reviewer and does not necessarily reflect the views or beliefs of this site.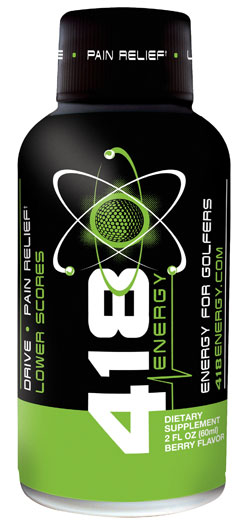 John Layfiel d is without a doubt a major wrestling superstar, a powerhouse who held the belt for a very long time. So when he released a new sports-themed energy shot, I couldn't wait to see how the drink would match up with his extreme sport. There's so much to work with -- pain and tears and intense match-ups while wearing bizarre get-ups.
Strangely enough, it turns out that the sport he had in mind is one played in little electric carts by geriatrics and drunks. That's right -- the big awesome sport JBL's new drink is packaged for is golf - a sport where no one gets clothes-lined, no one gets hit with a folding chair, and the goal is about birdies, not power-leg-locks.
The idea is that 418 Energy helps your golf game with an anti-inflammatory medication and between 100 and 180mg of caffeine. I was at a disadvantage, since I don't golf, but one of my associates does and nicely agreed to take it out with him to see if it would help. Of course, it would be kinda funny if this drink actually works like "magic in a bottle,"
Flavor
It's supposedly berry flavored, but my associate, Dave, put it best when he said the flavor was Manischewitz and prune juice. Gross, but also a great idea! I've spent time in the land of invisible drivers (as in, all you can see is a pair of glasses peering over the steering wheel, with a hat perched on top) off the coast of West Palm Beach so I know that where you find golfing, you find the elders, which is a built-in customer base for prune juice and kosher wine. Understanding the market is soo essential to making things like this work. Look at your drink base. You have a golfing drink that tastes like prune juice and Kosher wine. Don't go for sleek, smooth, and technical - look to Maneshewitz for inspiration.
Ingredients
As for the nutrition, I like the idea of adding homeopathic remedies like Cat's Claw for swelling, but none of it is a large enough dose to do any good. The same goes with all their ingredients -- adding bacopa monniera to the usual energy drink was pretty cool, but there's no actual point in these amounts.
Energy
Anyway, Dave reported that the drink didn't give him a boost in either energy or score (well, he said he got a 50, which I don't get, but I take it that's bad). I'm a bit more sensitive to caffeine, and would judge this as having about as much kick as a Monster or Red Bull. I felt nicely boosted and had no crash.
Still can't make that windmill shot, though.
Reviewed by Caffeine Examiner: Check out his more detailed review here.
Update: Apparently Golfers don't need any energy to drive around in their golf carts. 418 energy is out of business.
Ingredients in 418 Energy
Energy Blend includes: Glucuronolactone (glucuronic acid lactone), Taurine, L-Phenylalanine, N-Acetyl-L-Tyrosine, Malic Acid, Caffeine.
Anti-Inflammatory Blend includes: Vitamin C, Quercetin, Curcumin, Cat's Claw, Bromelain.
Cognitive Support Blend includes: Bacopa Monniera, Choline Bitartate, Acetyl L Carnitine.
Sugar content: Contains no sugar.
Compare Sugar Content
Caffeine Concentration
418 Energy contains 0.00 mgs of caffeine per fluid ounce (0.00mg/100 ml).