5 Hour Energy
5 Hour Energy is a small 2 fluid ounce energy shot.
The manufacturers claim the drink will give you 5 hours of energy without crashing. The drink is non-carbonated and sweetened with Sucralose (Splenda).
Despite the exact ingredient amounts being concealed within a Proprietary Blend, 5 Hour does advertise that there is 200 mg of caffeine in their energy shot.
5 Hour Extra Strength caffeine amount is listed as 230mg of caffeine.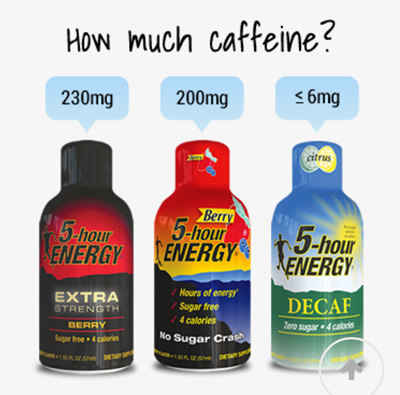 Is 5 Hour Energy to blame for killing 13 people?
Flavors of 5 Hour Energy
Berry
Citus Lime
Grape
Pomegranate
Orange
Pink Lemonade
Extra Strength Berry
Extra Strength Grape
Extra Strength Sour Apple
Extra Strength Strawberry Watermelon
Decaf Citrus
Here's what they publish about their caffeine content;
Original 5-hour Energy shots contain about as much caffeine as a cup of premium coffee. An Extra Strength 5-hour Energy shot contains about as much caffeine as 12 ounces of coffee. If you are sensitive to caffeine try a Decaf 5-hour Energy shot. It contains only as much caffeine as a half cup of decaffeinated coffee.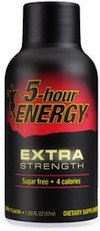 Unfortunately caffeine in coffee depends very much on brew method an varies even among premium coffee blends. A typical cup of brewed coffee has around 120-180mg coffee.
Consumer Reports Findings
Consumer Reports tested 5 hour energy and they came up with conflicting results as to what 5 Hour advertises.
Regular = 215mg
Extra Strength= 242mg
Decaf= 6mg
215mg is definitely more than an 8oz cup of premium coffee.
5 Hour isn't recommened for children and has even been linked to seizure onset in at least one case.
Where To Buy 5 Hour Energy
Ingredients in 5 Hour Energy
Purified Water, Glycerin, Glucuronolactone, N-Acetyl, L-Tyrosine, L-Phenylalanine, Taurine, Malic Acid, Caffeine, Natural Flavors, Ascorbic Acid, Potassium Sorbate, Sodium Benzoate, Pyridoxine Hydrochloride, Niacin, Proprietary Blend : (Enzyme), Sucralose, Cyanocobalamin, Folic Acid
Sugar content: Contains no sugar.
Compare Sugar Content
Caffeine Concentration
5 Hour Energy contains 100.00 mgs of caffeine per fluid ounce (338.14mg/100 ml).