5 Alarm Energy Shot
5 Alarm Energy Shot is an energy supplement that was developed by a group of fire fighters from Ohio.
They wanted to develop a shot that would not just provide a dose of caffeine, but one that would deliver an immediate sense of alertness through the use of flavor science.
5 Alarm recently sent us some free samples to try.
5 Alarm Energy Shot Review
It is a fact that certain flavors and scents have the ability to stimulate the senses and give a person a sense of alertness.
5 Alarm Energy Shot has taken this into consideration and released three intensely flavored shots; Extinguish (Peppermint), Smolder (Cinnamon) and Blaze (Cayenne).
I Sampled Extinguish and Smolder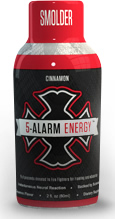 Both of these flavors did indeed deliver a jolt to my senses and provide an immediate sense of alertness.
I'm a big fan of peppermint, but in liquid form it was kind of like drinking mouthwash. I had to keep telling myself that it wasn't and was ok to swallow. The flavor was good, but peppermint isn't a usual beverage flavor that most would be accustomed to drinking.
Cinnamon was the easiest to drink and reminded me of fireball candy in liquid form.
A Nice Boost of Energy
After the initial rush from the intense flavor 5 Alarm has to offer, the caffeine kicks in. At 100mg it is similar to a cup of coffee and this lasts for several hours.
Along with the caffeine are 80mg of N-acetyl-tyrosine (an alertness promoting amino acid) and glucuronolactone. Niacin, B6, and B12 also are included in the formulation of 5 Alarm Energy.
Overall, it's nice to see some innovation in the energy shot market with the use of flavor science, which makes 5 Alarm Energy Shot stand out from the competition.
On a side note: 5 Alarm donates 5% of their profits to help better train and equip firefighters.
Ingredients in 5 Alarm Energy Shot
Extinguish (Peppermint) other ingredients
Purified water, vegetable glycerin, natural flavors, malic acid, potassium sorbate, sodium hexametaphosphate, sucralose, citric acid, sodium benzoate, polysorbate 20, ace-k, and FD&C blue #1
Sugar content: Contains no sugar.
Compare Sugar Content
Caffeine Concentration
5 Alarm Energy Shot contains 50.00 mgs of caffeine per fluid ounce (169.07mg/100 ml).