BANG Energy Drink
BANG Energy Drink is a "workout" type of energy drink made by VPX Sports, the maker of Redline.
BANG originally had 357 mg of caffeine per can but has recently been lowered to 300 mg of caffeine per can.
BANG is marketed as a fat loss aid and energy stimulator for those trying to increase their workout intensity and lower body fat percentage.
Flavors of BANG Energy Drink
Blue Razz
Lemon Drop
Champagne
Power Punch
Star Blast
Sour Heads
Cotton Candy
Black Cherry Vanilla
Purple Guava Pear (caffeine-free)
BANG Energy Drink's energy formulation is a combination of Creatine, Caffeine, Amino Acids, and B Vitamins.
Warning: BANG is a powerful energy drink with 300mg of caffeine per can. It should not be consumed by children, those with heart problems, or those unsure of their personal tolerance to caffeine.
BANG is sugar-free and sweetened with sucralose and Ace-k.
Where To Buy BANG Energy Drink
Ingredients in BANG Energy Drink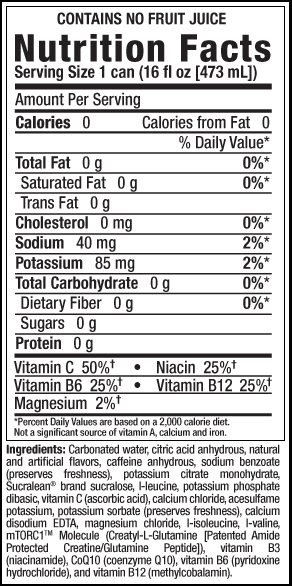 Sugar content: Contains no sugar.
Compare Sugar Content
Caffeine Concentration
BANG Energy Drink contains 18.75 mgs of caffeine per fluid ounce (63.40mg/100 ml).