Berocca
Berocca is an effervescent tablet that is added to water or juice.
The original version of Berocca did not contain caffeine, but only high concentrations of vitamin and minerals.
This version is still available in other countries and they have a caffeinated version of Bercocca is called Berocca Boost, however, Boost has less caffeine than what's listed above.
Berocca has recently started a large scale marketing campaign advertising their caffeinated version in the USA.
Source of Caffeine in Berocca
Guarana
Caffeine anhydrous
Berocca isn't suitable for children or those sensitive to caffeine.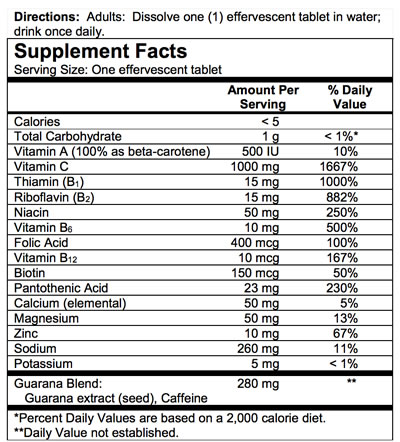 Where To Buy Berocca
Ingredients in Berocca
Citric Acid, Ascorbic Acid, Sodium Bicarbonate,
Maltodextrin, Magnesium Sulfate, Calcium Carbonate, Magnesium
Carbonate, Crospovidone, Caffeine, Sorbitol, Mannitol, Sodium
Carbonate, Niacinamide, Guarana Extract, Zinc Citrate, Calcium
Pantothenate, Beet Juice Powder (Color), Salt, Aspartame,
Thiamine Hydrochloride, Riboflavin Sodium Phosphate,
Acesulfame Potassium, Povidone, Pyridoxine Hydrochloride,
Natural and Artificial Flavors, Starch, Polysorbate 60, Folic Acid,
Beta-Carotene, Biotin, Cyanocobalamin.
Sugar content: Contains no sugar.
Compare Sugar Content
Caffeine Concentration
Berocca contains 11.25 mgs of caffeine per fluid ounce (38.04mg/100 ml).