Gloria Jean's Coffee
Gloria Jean's Coffee is a popular Australia owned coffee franchise with over 900 locations throughout the world with the majority being in Australia.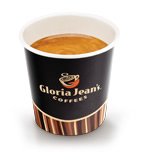 In the USA it appears that the franchises are under the name "It's a Grind" coffee houses.
Most of Gloria Jean's coffee beverages are espresso based and according to their customer service, each shot of their espresso has 67mg of caffeine. (listed above)
Based on this amount, we can estimate the caffeine content of some of their most popular espresso based coffees.
Caffeine Amounts in Gloria Jean's Espresso Coffees
| Espresso Based Drink | Small (single shot) | Med. (double shot) |
| --- | --- | --- |
| Short Black | 67mg | 134mg |
| Americano (long black) | 67mg | 134mg |
| Flat White | 67mg | 134mg |
| Cappuccino | 67mg | 134mg |
| Caffe Latte | 67mg | 134mg |
| Caffe Mocha | 77mg* | 149mg* |
| Macchiato | 67mg | 134mg |
| Caramelatte | 67mg | 134mg |
| Very Vanilla Latte | 67mg | 134mg |
| White Chocolate Mocha | 67mg | 134mg |
*This is estimate based on the approximate amount of chocolate the drink contains
The caffeine content can vary in espresso based drinks due to many factors; such as the coffee bean quality, proper measurement of the shot, and the length pulled.
Gloria Jeans coffee is also available for purchase as whole beans and preground coffee. The coffeine content of Gloria Jean's home brewed coffee would depend on the brewing method chosen.
These amounts would be similar to the generic listings we have in our database.
Where To Buy Gloria Jean's Coffee
Ingredients in Gloria Jean's Coffee
Arabic coffee beans, water, and in some cases steamed milk, sugar, chocolate and other flavorings.
Sugar content: Contains no sugar.
Compare Sugar Content
Caffeine Concentration
Gloria Jean's Coffee contains 33.04 mgs of caffeine per fluid ounce (111.71mg/100 ml).