Octane Energy Drink
Octane Energy Drink is an Energy/Sports drink hybrid from ProSport Nutrition.
This energy drink comes in powdered form and consumers are directed to mix 1 level scoop into at least 12 fluid ounces of cold water.
Octane Energy Drink has a strong citrus/orange flavor.
Octane is marketed as a more affordable energy drink at just $1.66/ serving.
This product s highly caffeinated and should be used with caution.
If you are unsure how your body responds to large doses of caffeine, use a smaller dose of Octane Energy Drink until you are sure your body can handle their recommended daily dosage.
Consumers should also drink plenty of plain water along with Octane to ensure proper hydration.
Where To Buy Octane Energy Drink
OCTANE ENERGY DRINK, ALL-IN-ONE Health & Fitness Energy Drink, Sports Drink & Pre-Workout! (Makes 30 Drinks/MSRP $3 a drink"DISCOUNTED" to only $2 a drink) by ProSport Nutrition.

Price: $59.99 Available from Amazon / PROSPORT NUTRITION
Ingredients in Octane Energy Drink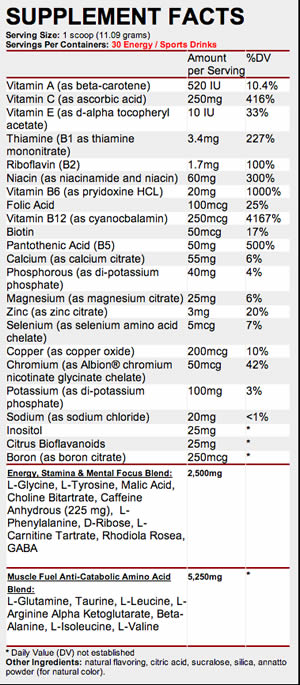 Sugar content: Contains no sugar.
Compare Sugar Content
Caffeine Concentration
Octane Energy Drink contains 18.75 mgs of caffeine per fluid ounce (63.40mg/100 ml).