Redline Xtreme Shot
Redline Xtreme Shot is a highly caffeinated energy shot from VPX Sports.
It is a variation of their Redline sports supplement line that is popular with body builders and fitness enthusiasts. It's marketed as a fat loss and energy increasing aide.
Besides the large dose of caffeine, Redline also contains Yohimbe, which is another stimulant.
Even those with a high tolerance to caffeine should head the warning of never having more than one Redline Xtreme Shot every 7 hours or 2 shots daily.
Flavors
Redline Xtreme Energy Shot comes in 3 flavors:
Triple Berry
Watermelon
Wild Grape
Where To Buy Redline Xtreme Shot
Ingredients in Redline Xtreme Shot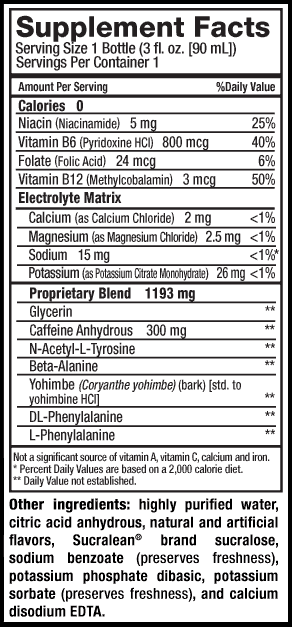 Sugar content: Contains no sugar.
Compare Sugar Content
Caffeine Concentration
Redline Xtreme Shot contains 100.00 mgs of caffeine per fluid ounce (338.14mg/100 ml).