Anatomy of a Caffeine Headache: Causes, Remedies, Prevention
A caffeine headache has been experienced by just about anyone who consumes caffeine on a regular basis.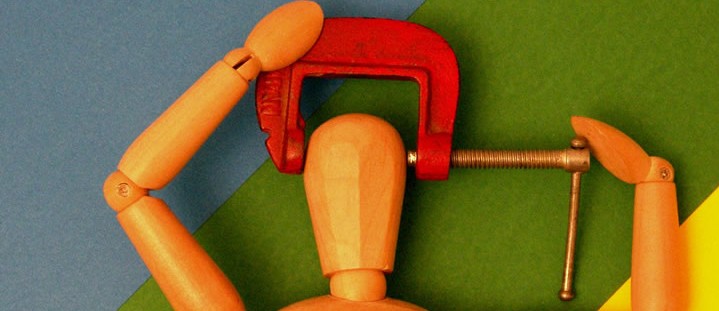 This caffeine-induced headache usually starts behind the eyes and then works its way up the front of the forehead as it further develops, becoming quite debilitating.
For some, this can trigger a migraine, but for most people a caffeine headache is moderately painful and varies in severity depending on the cause.
Top 5 Causes of a Caffeine Headache
Varied caffeine consumption
Caffeine sensitivity
How to Remedy an Aching Head
The number one cause of a caffeine headache is caffeine withdrawal.
Even a small decline (30-100mg) in the amount of caffeine a person usually consumes can result in a mild headache.
People who miss their daily dose, consume less than their average, or who are detoxing from caffeine will most likely experience this type of headache.
For those trying to cut caffeine altogether cold turkey, the withdrawal symptoms can be debilitating. That's why for advanced level detoxes from caffeine, we recommend a cheap and effective caffeine detox program like Wean Caffeine.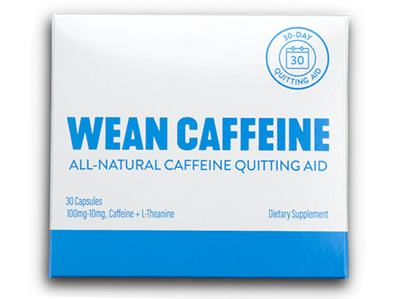 As many of you have experienced, you don't need to be an addict to experience the negative effects of caffeine
People who consume caffeine in a hit or miss fashion tend to have more caffeine-induced headaches than those that have the same amount every day.
Also, for those that consume too much caffeine in a short amount of time often experience a headache as a common caffeine overdose symptom.
Finally, those who are ultra-sensitive to the caffeine molecule or who have an "allergic-like" reaction to the substance, can also experience a headache. However, this type of caffeine headache the least common.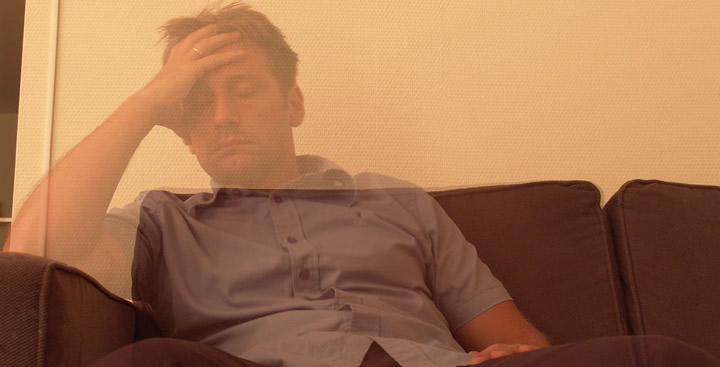 If you aren't intentionally quitting caffeine, the best remedy for a caffeine withdrawal headache is to consume more caffeine.
As soon as a person begins to feel a tightness behind the eyes, he/she should evaluate their recent caffeine consumption and then consume an adequate amount of caffeine to stop the withdrawal.
Pain relievers such as Excedrin also include caffeine and can remedy the caffeine withdrawal headache faster since they also have added pain relievers.
For those that are purposely detoxing from caffeine or for those that have consumed too much caffeine, we recommend the following.
Take pain relievers like ibuprofen, acetaminophen, aspirin, and naproxen. (use only as directed)
Drink plenty of water.
Avoid medications, beverages, and foods with added caffeine.
Sleep.
Most of the time a caffeine headache will peak in severity and then gradually get better as the body adjusts to having no caffeine.
"I find that most of the time pain killers dull the pain and a good night sleep takes care of the rest."
Note: For those that had a moderate to severe addiction to caffeine, the headache could last for several days, but is usually worse the first 24 hour period without caffeine.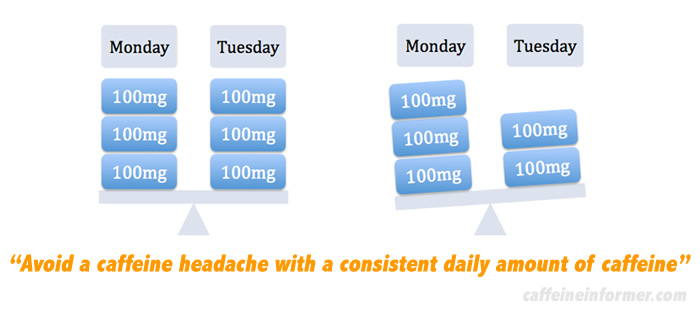 The Two Best Methods for Prevention
For those that want to prevent a caffeine headache, there are basically two ways to keep a caffeine headache from developing.
Consume about the same amount of caffeine every day. – Don't vary consumption by any more than about 50mg each and every day, even on the weekends.
Consume zero to very little caffeine– Eliminate caffeine from the diet completely. Usually, people who have very small amounts, such as what's in a serving of dark chocolate, won't experience any problems with developing a caffeine-induced headache.
By understanding how a caffeine headache develops, how to remedy it, and how to prevent it; this type of headache doesn't have to be an issue for most people.
Being aware of the caffeine content of your favorite products as well as being mindful of how much you have consumed are your best defenses against getting caffeine-induced headaches.
Helpful Tools
1. Our caffeine content database can help people keep track of their caffeine consumption and be aware of how much caffeine they are consuming daily by drinking their favorite beverages.
2. Download a caffeine-tracking app. This smartphone application allows users to easily track their daily caffeine consumption.
3. Our Guide to Quitting Caffeine provides a step-by-step plan to quit or cut back on caffeine without all the painful withdrawal symptoms such as headaches.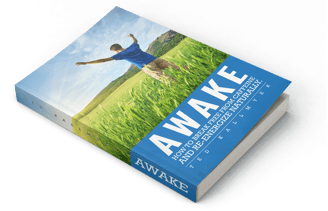 Get Help Quitting Caffeine
Reduce your caffeine intake without pain and discomfort.
Download our FREE ebook
Last Modified: November 10, 2017
References
Smith, R. (1987). Caffeine withdrawal headache. Journal of clinical pharmacy and therapeutics, 12(1), 53-57. link
Kendler, K. S., & Prescott, C. A. (2014). Caffeine intake, tolerance, and withdrawal in women: a population-based twin study. link
Shapiro, R. E. (2008). Caffeine and headaches. Current pain and headache reports, 12(4), 311-315. link