NOS: Nitrogen Injected Energy Drink?
NOS Energy Drink is a drink marketed to car enthusiasts, but despite it's name, it does not contain Nitrous Oxide or Nitrogen. Nitrous is used in internal combustion engines to provide more oxygen – although these engines will one day be a thing of the past. Electric vehicles are on their way in now, and maybe NOS needs to rebrand.
NOS Energy Drink is available in 6 different varieties and a few different sizes.
Here we review the Original and Loaded Cherry.
NOS Original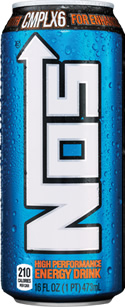 I applaud NOS for always thinking outside the energy drink box and providing an original product.
They refused to produce a generic energy drink flavored beverage, but instead came up with their own energy drink flavor.
Taste
If you like citrus/grapefruit soda's (i.e. Squirt), then you will love NOS Original.
It has a great grapefruit flavor and the energy ingredients are almost undetectable. It is a bit too sweet for me, but overall a great tasting drink.
Bang
Nos' kick comes from their Complex 6 energy blend which is a blend of Caffeine, B vitamins, Taurine, and L-theanine. Originally NOS contained a whopping 260mg of caffeine, but since acquired by Coca Cola, they have reduced their caffeine content to the standard 160mg/ 16 floz can.
I said it was sweet and with 53 grams of sugar, you will also experience a sugar rush from NOS. Unfortunately, this will result in a crash-like feeling following the rush.
Overall, I commend NOS for producing some great tasting drinks like Original and luckily this one also comes in a Zero Version which is sugar-free.
NOS Loaded Cherry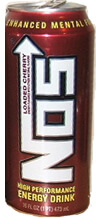 I was recently skimming through my local beverage store looking at energy drinks, when my eyes came across a new NOS!
Its been awhile, yet NOS has hit the market with a new flavor, cherry. NOS has done a great job in the past with their flavors, providing very refreshing tastes while giving you the necessary energy boost. So lets put the peddle to the floor with the newest Loaded Cherry NOS…
Taste
I'm not usually a huge fan of the cherry flavor, yet that all changed with this NOS. Wow, a very good taste! Its called "Loaded Cherry" yet even though it has a cherry taste, its not over powering. This energy drink has a slight carbonation, but again like the taste, not too much, just right.
Ingredients
The contents of Loaded Cherry are the same as in the other NOS drinks. Which is 260mg caffeine, 2000mg Taurine, 400mg of L-carnititine and 200mg of Insitol. For all you health freaks, this energy drink has 210 calories and 1, yes, 1 g of protein!
Effect
The Buzz was just about as good as the taste. Quickly after drinking I felt a good buzz yet was a little jittery. The effects of NOS Cherry lasted a few hours before diminishing, yet I didn't feel any sort of crash, but that's usually the case with me.
Verdict
NOS Loaded Cherry is one of the best energy drinks I've bought in a long time. It does a good job of continuing the NOS tradition of providing another great flavor in their energy drink line up.
In a world where energy drink companies are putting all there time and resources into their packaging and overlooking taste, its nice to see that NOS is doing their homework and providing the consumer with a solid new energy drink. Even if your not a huge cherry fan, I believe the newest NOS Loaded Cherry will still treat your palette well…
Reviewed by Brandon Trouten
What do you think of NOS Energy Drink? What's your favorite flavor?
Drinks are reviewed by an independent drink reviewer and do not necessarily reflect the views or beliefs of this site.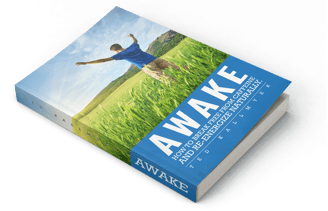 Get Help Quitting Caffeine
Reduce your caffeine intake without pain and discomfort.
Download our FREE ebook
Last Modified: November 14, 2016