Rhino Rush Energy Shot.
Rhino Rush Energy Shot is currently the fastest growing energy shot in the USA based on dollar sales and is made by Raw Pharma LLC.
A bottle of Rhino Rush is formulated to be taken as two .9 fl.oz. servings, which delivers 100 mg of caffeine per serving, but we listed the whole bottle amount above as we do with all products.
Flavors of Rhino Rush
Peach Ring
Watermelon
Kiwi Strawberry
Grape
Blue Raspberry
Margarita
All of the above flavors have the same amount of caffeine.
Rhino Rush also now max a caffeine and stimulant free shot called Rhino Relax. It is a blend of Phenylethylamine HCL, GABA, Phenibut, and Valerian.
This shot is different from most others because it contains the addition of five stimulants besides caffeine.
The company recently sent us a few samples of 3 of their flavors to review.
Rhino Rush Energy Shot Review
I don't normally take the herbs ephedra or yohimbine, so I was a bit nervous going into this review.
I've had products with yohimbine in it before (Redline) and I didn't really like how it made me feel. But, I tried to keep an open mind.
3 Flavors Reviewed
Rhino Rush has three flavors in their Double Shot energy line and here's how each tasted.
Kiwi Strawberry: This one has the tartness of kiwi fruit but the berry flavor of strawberry and was pretty easy to drink. I really had to consciously stop at 2 sips to not exceed my limit since I was trying all 3 flavors.
Grape: This one has a pretty strong grape flavor and wasn't tart like Kiwi Strawberry. It was on the sweet side for me, but again, easy to drink.
Margarita: Just as I expected, a tart lime flavor that really made me pucker. Perfect for those that really like the flavor of lime or a less sweet tasting shot.
All three flavors are sugar-free, so expect a slight aftertaste from the sucralose.
Note: Rhino Rush now offers a Blue Rasberry flavor which was not reviewed.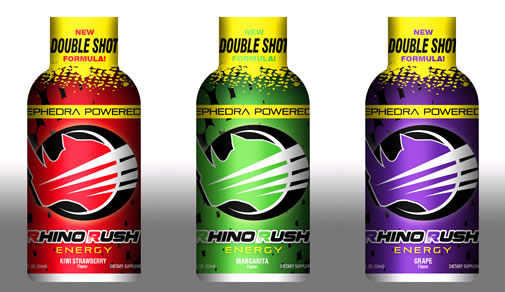 Rhino Rush Energy Ingredients
Besides the standard energy ingredients like caffeine, taurine, and glucuronolactone, Rhino Rush Energy Shot surprises us with a few additional energy ingredients.
Ephedra: This is not Ephedra Sinica that has been banned by the FDA, but Ephedra Viridis Powder which doesn't contain the banned ephedrine alkaloid, but it still produces energy and alertness safely when used as directed.
Chaperro prieto: Also known as Acacia Rigidula, it has over 40 chemical compounds that influence mood and stimulation.
Theobromine: Is similar to caffeine but much weaker and produces more of a relaxed state than caffeine does. It is primarily found in dark chocolate.
Phenylethylamine HCl : This chemical causes the release of norepinephrine and dopamine, two very powerful brain neurotransmitters involved in attention, positive mood, and alertness.
Yohimbine HCl: This ingredient enhances athletic performance by increasing blood flow and also stimulates the heart. In large doses, this herb has a lot of side effects.
The Effect
I consumed about 1 serving of Rhino Rush in total and within minutes, I began to feel the stimulating properties.
It's definitely a different alertness than just 100 mg of caffeine would provide, but it wasn't in any way over the top nor did it produce any undesirable side effects.
The shot also gave me great energy for my afternoon surf.
Heed the Recommended Dosage!
We strongly suggest that you follow Rhino Rush's dosage guidelines and only consume 1/2 a bottle per day.
While caffeine-wise a whole bottle is still within your daily safe limit. The additional stimulants could produce unwanted side-effects and could even be dangerous for some.
This is not the same as drinking a 5 Hour Energy Shot as the ingredients are much different.
Rhino Rush is for adults only and under no circumstances should this shot be given to children.
Ingredients in Rhino Rush Energy Shot
Other ingredients:
Purified water, natural and artificial flavors, cellulose gum, xanthan gum, carrageenan, sucralose, potassium sorbate, FD&C red lake 40, sodium benzoate
Sugar content: Contains no sugar.
Compare Sugar Content
Caffeine Concentration
Rhino Rush Energy Shot contains 111.11 mgs of caffeine per fluid ounce (375.71mg/100 ml).